Vaughn picks UNLV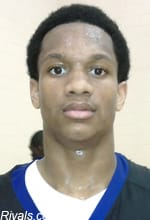 There's an old notion that players win championships, not coaches. After today, the UNLV Runnin' Rebels seem to be well on their way to, at least, challenge the nation's best programs.
The country's No. 7 ranked player and top guard left in the 2014 recruiting class, Rashad Vaughn, has verbally committed to attending UNLV after his senior year at Henderson's Findlay Prep.
Vaughn, a native of Minnesota, chose the Rebels over Iowa State, North Carolina, Kansas and Kentucky. UNLV jumped in hot and heavy into Vaughn's recruitment after he transferred to the local prep school. There was plenty of ground to be made up, but Vaughn, who is a McDonald's All-American, decided to go with the school that could offer immediate playing time.
UNLV's last commitment from Findlay turned out pretty well for both parties involved. Anthony Bennett spent one year with Rebels and parlayed a Mountain West Conference Freshman of the Year award into the No. 1 overall selection in last Spring's NBA Draft.
There's much to like about the 6-foot-5, Vaughn. He is a fearless slasher from the wing that also possesses a feathery touch from the perimeter.
National recruiting expert, Eric Bossi, described Vaughn in this manner, "An electric scoring guard who plays with supreme confidence. Vaughn is big, strong, athletic and very adept at driving to his left. His range extends to well beyond the three point line. Rebounds very well but has to work on his shot selection and efficiency."
Vaughn joins two other highly rated preppers in the 2014 class - No. 15 Dwayne Morgan and No. 32 Goodluck Okonoboh - for a banner class, in what could very well be the Rebels' top recruiting class ever, especially from the high school ranks. All three of these recruits bring athleticism, size and energy to a team that will be bringing back most of its top players.
There was a definite need for UNLV at the guard position heading into next year, though. With the possibility of Bryce Dejean-Jones leaving school early to play professionally, the Rebels were in dire need of another athletic guard that could penetrate but also score from the arc. These are Vaughn's best attributes, and he does them as well as any other prep guard in the country.
Out of the top 10 players in the 2014 class, Vaughn is the lone shooting guard. In fact, there are only two other guards ranked that high (Emmanuel Mudiay and Tyus Jones), and they are both point guards. The next highest rated shooting guard is Vaughn's teammate at Findlay Prep, Kelly Oubre, who will be going to Kansas after this season.
Be sure to check out the Confidential Board for much more on this breaking news.